Archives
Welcome to the Archives of
Mimi O'Neill Studio
Represented in these pages are highlights of special concerts produced by Mimi O'Neill over the last 25 years in New York's Capital District and beyond. This includes collaborations with talented artists; pianists Lincoln Mayorga, Nate Buccieri, and Russian born pianist, Adelina Krivoscheina; violinist, Yosef Yankelef; and the jazz duo, Pearley Rousseau and Sonny Daye; and singer-songwriter, Sheri Mayorga. Over the years, Mimi O'Neill trained many talented singers, many of whom she invited to participate in the Albany Ensemble, a vocal group which performed operatic arias and duets and music from Broadway musicals to audiences in the Capital District. Several years later, she invited four of these singers, now professionals in their own right, to tour with her to Germany and Poland in concert tours. With the smaller Albany Ensemble; sopranos Andrea Wilcox (Schulz) and Christine Powers, bass baritone, Tom Torebka, and tenor John Garafalo, plus pianist Nate Buccieri, she concertized to Germany and Poland, offering enthusiastic audiences rich and eclectic concerts of classical, jazz, and world music. Among these performers, special note goes to tenor, John Garafalo, with whom she performed consecutive years in Bremen, Germany, and Gdansk, Poland. Of late, the vocal ensemble, ARIA; mezzo soprano, Mary Warr Cowans, bass baritone, TomTorebka and Mimi O'Neill, perform in the Capital District, showcasing music that delights and entertains.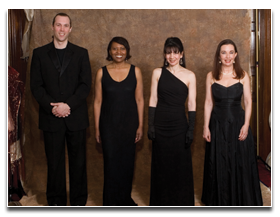 ARIA - Benefit Concerts for St. Joseph's Church, Albany, NY, 2006-2007
In 2006, ARIA was on the road again, performing a concert of American Gospel and traditional American spirituals, German art song, and contemporary American operatic works in Bremen, Germany. In Fall, 2007, ARIA returned to Bremen for an encore engagement in the celebrated Friedenskirche, the "Peace Church," for a concert of peace and renewal.
Poland Concert Tour With Albany Ensemble - 2005
In 2005 the Ensemble toured Poland, presenting concerts in Gdansk and Warsaw, and hosting a music and meditation camp near Sopot, Poland, on the Baltic Sea.
ARIA was honored to be the first musical group since 1939 to perform in the historic Jewish Museum, in the center of Warsaw, on the former site of the Warsaw Ghetto. At this concert ARIA performed Jewish music and American Spirituals.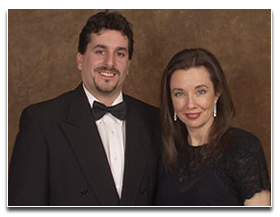 Concert Tour to Bremen, Germany and Gdansk, Poland
2001 - 2002, With tenor John Garafalo and Mimi O'Neill
We dedicate our songs to Peace. This is an original-concept concert, a concert about the wonder and the love, the pain and the redemption of our human journey together. The underlying theme of the concert is peace - peace and healing for the individual, for the community and - for the world.
The Albany Ensemble Performing at Bush Memorial Hall, Russell Sage College, Troy, New York
The Albany Ensemble, an Albany-based vocal ensemble dedicated to providing creative, educational, and performance opportunities for singers and musicians within a wide range of musical genres: the operatic, classical, and musical theater genres; new composition; and ancient and contemporary music.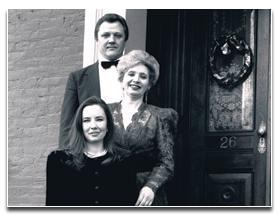 Treasures of Eastern European Heritage at SUNY Albany, 1998
Mimi O'Neill with Russian Bass, Nicolai Shopsha and pianist Adelina Krivoscheina performing in Treasures of Eastern Heritage at SUNY Albany, 1998.
Mimi O'Neill with pianist Lincoln Mayorga and violinist Yosef Yankelev in Max Lifschitz's Bondage and Freedom, performed at Page Hall, SUNY Albany, 1992.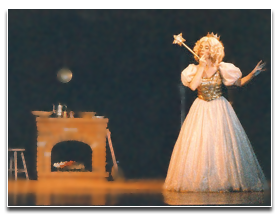 Mimi O'Neill performing as the "Fairy God Mother" in Pauline Viardot's, Cinderella, Los Angeles, CA, mid 1980's.