Archives
Concert Tour to Bremen, Germany and Gdansk, Poland, 2002.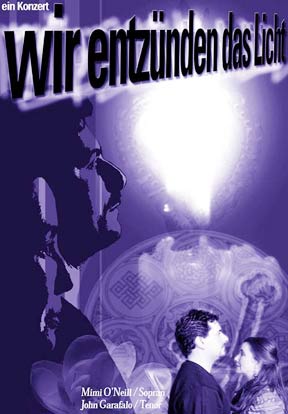 Bremen, Germany: May 24, 2002
Gedansk, Poland: May 31, 2002
with Soprano Mimi O'Neill
and Tenor John Garafalo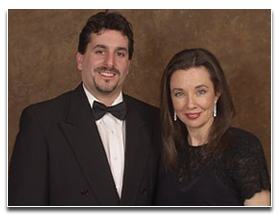 Mimi O'Neill
and John Garafalo
We Kindle the Light II:
"We Dedicate our songs to Peace"
Bremen, Germany: May 24, 2002
Gedansk, Poland: May 31, 2002
with

Soprano Mimi O'Neill


and Tenor John Garafalo
We dedicate our songs to Peace. This is an original-concept concert, a concert about the wonder and the love, the pain and the redemption of our human journey together. The underlying theme of the concert is peace - peace and healing for the individual, for the community and - for the world. Mimi O'Neill, soprano and Sufi teacher, is joined by her friend, Italian American tenor John Garafalo in this beautiful and moving concert of eclectic and soulful music, classical, jazz, and gospel. Themes include love, surrender, praise, regret, hope, resignation, the journey, healing, ecstacy, longing, and joy. The pair bring several exquisite Italian masterpieces to this concert, "E la solita storia del pastore" from Cilea's L'Arlesiana, and Capua's "L' te vurria vasa," Gluck's work of love and longing, "O Dolce Mio Ardor," and Handel's, elegiac, "Waft Here Angels." Mimi O'Neill explores the longing- fire for the Beloved in original Sufi songs and the poetry of Jelaludin Rumi and Hafiz. From Sufi composer Hidayat Khan, Mimi O'Neill sings the mesmerizing, "Chanson Exotique" - the story of the self confronted with its own spiritual death and rebirth. Exploring the energy of romantic love, Mimi O'Neill sings the nostalgic jazz of Harold Arlen's, "I Never Have seen Snow," and I Had Myself a True Love. Garafalo presents Johnny Mercer's "Autumn Leaves." Together they resign to love lost in, Don Raye's "You Don't Know What Love is." Garafalo presents Mousoursky's "Little Star where Art Thou", a song about the death of a young maiden in the cold winter, the powerfully dramatic, "Bring Him Home," and "Empty Chairs and Empty Tables" - from the musical, Les Miserables, - prayers for those left behind. O"Neill offers a classic song of healing with Arlen's "Somewhere Over the Rainbow"- dedicated to the hope that there will actually be a better day. - somewhere. All songs dedicated to those who died on September 11th in New York City, and to those elsewhere in the world who have died out of conflict. Turning to the heart, Mimi O'Neill sings Billy Holiday's classic spiritual, "God Bless the Child," - from the Biblical, "god bless the child that's got his own." Together the pair turns to gospel-soul, "Over My Head I Hear Music in the Air, and two energetic soul rockers, Curtis Mayfield's, "People Get Ready, There's a Train a Com'in" and the bluesy "Wayfaring Stranger " -evoking all of our homeward journeys. The pair rounds out the show with Paul Simon's, "Bridge over Troubled Water"- and adds a couple of surprises from the operatic love-duet genre - to be announced.