Mimi O'Neill Voice Training
Teaching Schedule and Details:
Mimi O'Neill is available for private voice training lessons Monday, Tuesday, and Wednesdays from 2:00 PM  till 9 PM. Lessons are one hour. Students may record their sessions to take home with them to study and practice. Students are welcome to schedule voice training lessons with Mimi O'Neill once a week (depending on space availability) or every other week.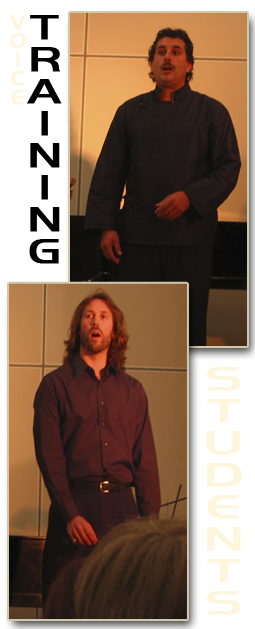 Students
Young Students, Adult Beginners, and Advanced Singers
Young Students:
Students are welcome to begin voice training at twelve years of age. (Special exceptions are made for young students who are already singing professionally or in their communities).  
Adult Beginner:
Mimi O'Neill welcomes the adult beginner. It is often the case that after we are established in our lives and careers, we are inspired to explore music and singing. Often this is purely for our own pleasure and satisfaction - or to fulfill a calling for something further. In any case, Mimi O'Neill enjoys helping individuals find and develop their voices! 
Advanced Singers:
Singers who have sung and trained for may years are also welcome to study with Mimi O'Neill. The renewal and revival of one's vocal technique, the exploration of diverse musical genres, including jazz, or popular, or the deepening of one's classical and operatic repertoire, and the expansion and improvement of one's performing presentation, are all subjects Mimi O'Neill pursues with advanced students.    
Consultation Appointments and Lesson Scheduling
Interested students are invited first to meet Mimi O'Neill at a free consultation appointment before scheduling lessons. Please contact Mimi O'Neill at: (518) 432-0849 or email: mimioneillstudio@gmail.com 
Recitals and Students Performances
Mimi O'Neill offers regular student performances in the studio space, at 26 First Street in Albany. These events are called "Performance Evenings/Afternoons" and offer singers the opportunity to perform in a safe and nurturing environment. Performances are enjoyable and eclectic events, where one might hear operatic arias, a German Lied, some Kurt Weill, or Steven Sondheim, the jazz of George Gershwin or Harold Arlen, some Broadway tunes, and an original offering for guitar and voice. Friends and family of students are invited and a reception follows the musical offerings. Mimi O'Neill feels strongly that students need the opportunity to try out and develop their performing abilities outside of the public arena.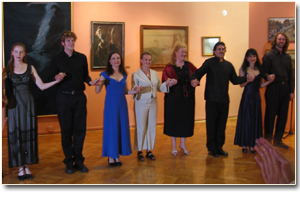 Concert in warsaw Poland at Jewish Institute & Museum




Speech Improvement:
Mimi O'Neill offers a course of speech improvement. This is voice work based on improving the speaking voice for personal improvement or professional business presentation requirements. In this training, Mimi O'Neill emphasizes breathing, tone development, posture work, diction improvement, elocution, accent removal, as well as work with expression and presentation skills. Mimi O'Neill also works with "stage fright" and the inner critic.  Sessions are recorded so that the client can work further on their own.  
26 First Street , Albany New York, 12210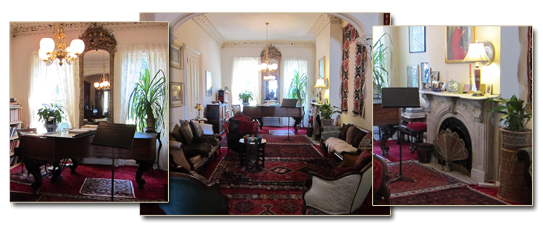 Located on the first floor of Mimi O'Neill's  historic Albany townhouse, circa 1856, the studio has high ornate ceilings and a length of over 60 feet. Just short blocks away from 787 or Interstate 90, adjacent to downtown Albany, the studio is located on lovely St. Joseph's Park and Church. There is ample parking on the street and around the church.